Name: Kitsra
Nicknames: Kit
Village: Storm
Rank: Genin
Age: 12
Height: 4'7
Weight: 110
Apperance: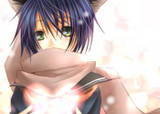 I wear a blue school girl uniform with and a pink scarf around my neck. I have blue hair and green eyes and cute pair of black ears.
Gender: Female
Clan: None
Family History: I live with my dad, mom, and my brother. My dad's name is Guru and my mom's name is Erin. And my brother's name is Myozashi. My family are all ninja and we have lived in the Storm Valley since I can remember. My mom is a Jonin and so is my dad, but my brother is just a Chunnin. Also my family are assassins who hunt the supernatural. Meaning people who are wolves, and vampires, and stuff like that. (I thought I'd add some variety to this place, if that's okay.)
Character History: I grew up learning about the ways of a ninja and it's my dream to be the captain of he ANBU one day which I will complete. I've always trained with my family because we're a bunch of assassins. Yep, we've been doing this for over a hundred years. Anyway, I get real lonely because Myozashi is like 21 and I'm like twelve so he doesn't want to play with me as often but who hjas time for playing when you're busy being a ninja/assassin?
Personality: I'm really nice and happy almost all teh time. I love what I do and have big dreams for the future. I want to follow in my families footsteps and make them proud! Yep, I'm one of those weird kids who just get along with everyone.
RP Sample:
Well it was a hot afternoon and I was taking a stroll through the open when I noticed a group of people heading my way. They looked older than me but I didn't really care since I loved to talk with everyone and anyone. As I headed over to them I felt my phone vibrate in my pocket. "Hmmm," I said as I pulled it out. (Hope we can have cell phones.) I looked at it and gave a big. "Yippee." The council had sent me a text saying that I had just been assigned to hunt down a gang of rogue vamps. This would be totally fun. I looked back to the group of people and waved at them though the didn't notice and then I hurried off towards The Snow Valley were I'd hunt down my bounty, even though I wasn't getting paid for this.
Approved! I like the way you do things Kit. Thank you for adding some variety to Ninja Legend and yes phones are aloud. LOL!